SEO Western Sydney
Get on Google - Western Sydney
Are the right customers coming to your page? You may need to rethink your SEO strategy! Unless you're ranking on page 1 for your search terms and getting the right audience, your business won't get the right results to grow. When it comes to Google, they take into consideration endless details on your website. And it only keeps updating with their frequently changing algorithms!
To ensure you are targeting the right audience across Western Sydney, you will want to make sure your SEO game is at its best. From knowing their behaviour and targeting the right keywords your target audience would use to building an effective website Google can trust, we strive to help your website rise onto page 1. We take a holistic approach, focusing on all aspects of your website. Covering the technical, content and every in between, we work to deliver you a website that will work and captivate your target market.
Get Started
Free SEO Health Check
Receive a free comprehensive SEO site audit
Holistic SEO Strategy
At FX Web Studio, we have created our own SEO campaign cycle which has proven to be an effective model for optimising websites. Built on this foundation, we will develop an SEO strategy that will meet the specific needs of your business and website. This will ensure that the campaign meets your marketing objectives and delivers the results that your business needs.
Throughout the campaign, we cover the initial groundwork through researching and delivering efficient SEO components by optimising both the desktop and mobile websites. We ensure you are ranking in the local search results while maintaining performance through regular content creation, updates and overall optimisation.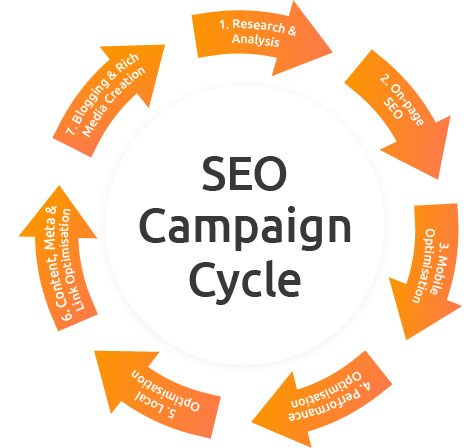 Operating in a high-end boutique located in the heart of Sydney, we have been working with this leading Sydney jeweller for almost six years.
The client came to us initially to rebuild their website. After only 2 months, they noticed that their website was doing much better at converting sales than the previous version. This prompted them to commence an SEO campaign with us. FX Web Studio was able to get their site ranking on page one in only 9 months.
Today, they rank in the top 3 positions of page one for some of the most competitive keywords in their industry. Currently ranking for almost 400 keywords.

FX Web Studio have since rebuilt their website three times and are in the process of the fourth rebuild (they like to keep things fresh), we pride ourselves on having created an effective sales tool for our client and a positive website experience for their customers. Their clients often comment at how easy and simple the website is to use. We have, carefully crafted every aspect of the website with a heavy focus on structure, performance, usability across all devices and user search intent in mind.
From on-page and off-page SEO, to web performance optimisation, local search optimisation, link building and rich media content creation – our strategy has taken their enquiries from an average of 20 per month to a minimum of 200 per month (unfortunately we only have data as far back as 2016 when we moved to a new analytics platform).
In our time working with this client, we have helped them with SEO, Web Development, Social Media Marketing and Google My Business (Maps).
Jan 2016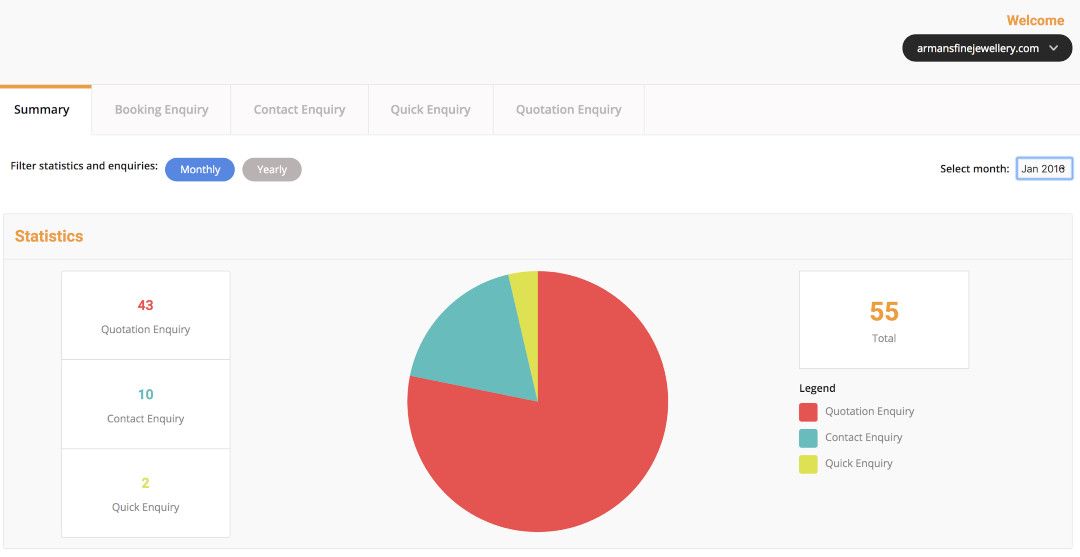 Jan 2019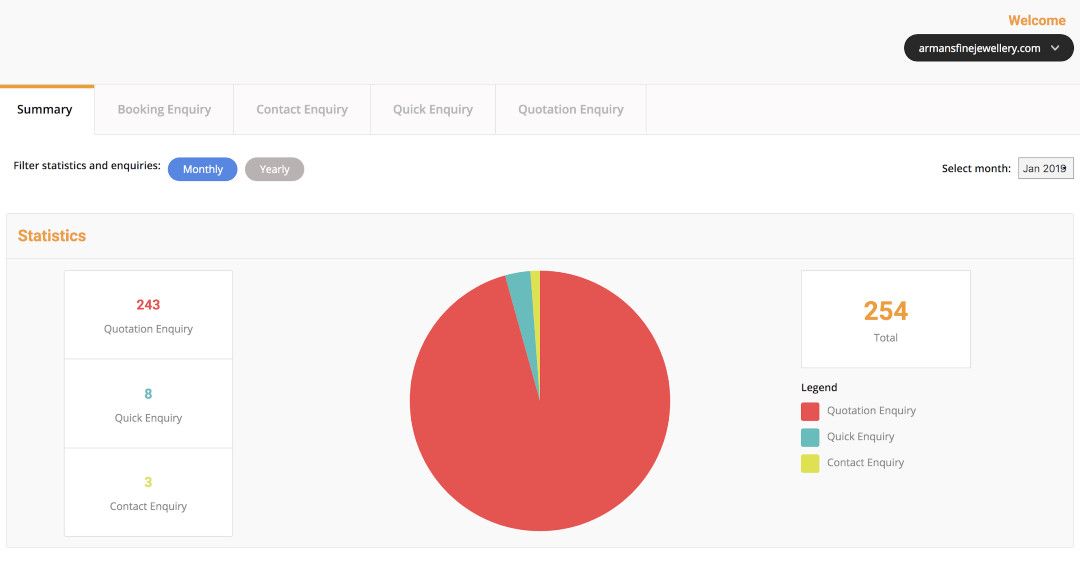 This strategy has allowed the client to rank for very competitive keyword phrases such as:
engagement rings Sydney
diamond rings Sydney
custom engagement rings Sydney
These keywords have a high competition rate and large monthly search volumes. Our client's website has gained thousands of impressions on Google SERPS with decent click-through rates through these search phrases and low bounce rates. According to SEM Rush, it is the second most visible domain of all it's competitors.


Following the success of the above client, we had a second jeweller approach us. This jeweller is also a well-known leading jeweller with three boutiques located in Westfield shopping centres across Sydney.
Over three fruitful years of working with this recent client, FX Web Studio has been able to achieve great things to enhance the client's online presence. We first transformed their dated website into one that's visually appealing, easy to use and search engine-optimised and are in the process of revamping it again.
Our team has focused on a holistic approach, focusing on on-page, off-page rich media assets content. This includes a range of video content, articles, infographics and much more. Our strategy includes optimising the content so that it is meaningful and caters for the user's intent when they land on the site. Each page is carefully designed to ensure it is relevant to the search term the user has searched. We've worked on reducing bounce rates and cleaning up the mess from their previous SEO company (poor quality and dodgy backlinks). The number of monthly enquiries for this client has increased significantly—from 5 enquires a month to almost 50 per month. It's still early days.
This client has been ranking well for several high-volume keyword phrases. Not only have we achieved great results with the first jeweller, but to our merit, we have done this again with this client with many of the same competitive keywords including:
engagement rings Sydney
diamond rings Sydney
custom engagement rings Sydney
July 2017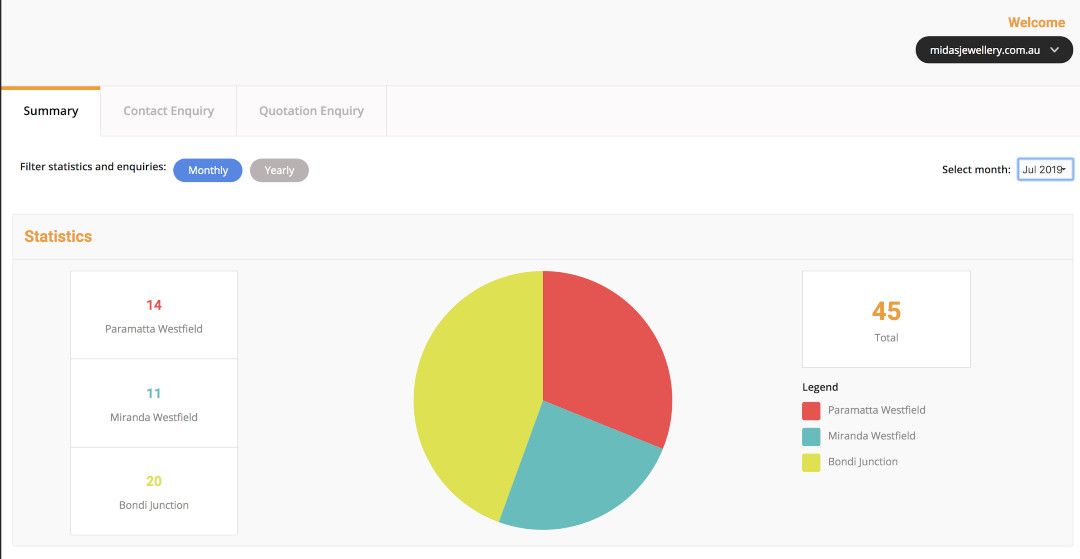 July 2019

Sydney Lawn & Turf are one of Sydney's most successful turf businesses. With two farms located in the Hawkesbury, they supply and install a range of turf varieties for both domestic and commercial customers. FX Web Studio and Sydney Lawn and Turf have had a long and fruitful relationship which started over ten years ago.
Over the past 10 years, we've rebuilt numerous websites for them upgrading both sites' at least twice each. We have focused on optimising the website through on-page and off-page SEO and website performance. We helped take their business to the next level, selling turf online which has resulted in an increase in both website traffic and sales.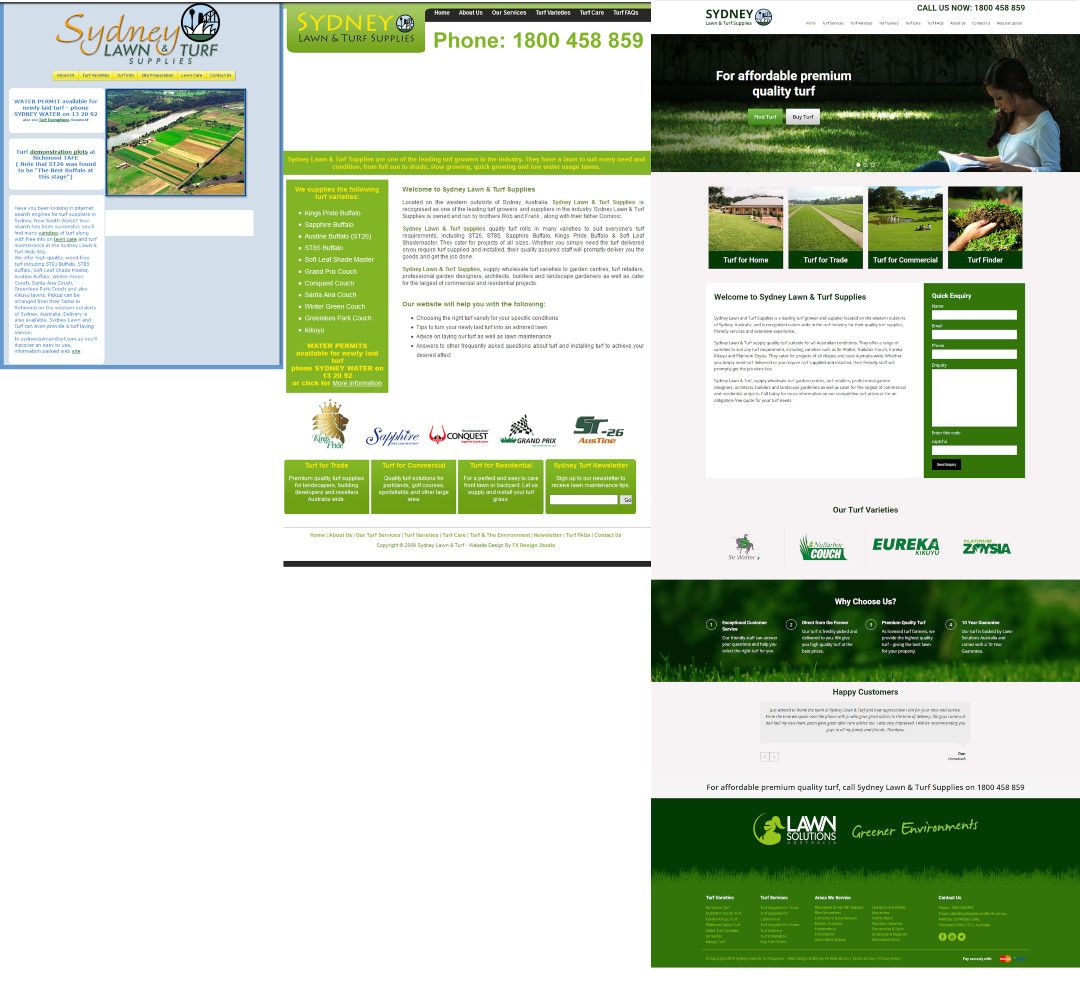 Our team has worked hard to boost our client's visibility on Google SERPs, Google AdWords and Google Maps. Both websites have ranked well for several competitive keyword phrases over the years such as:
Turf Supplies Sydney
Buy turf online
Turf supplier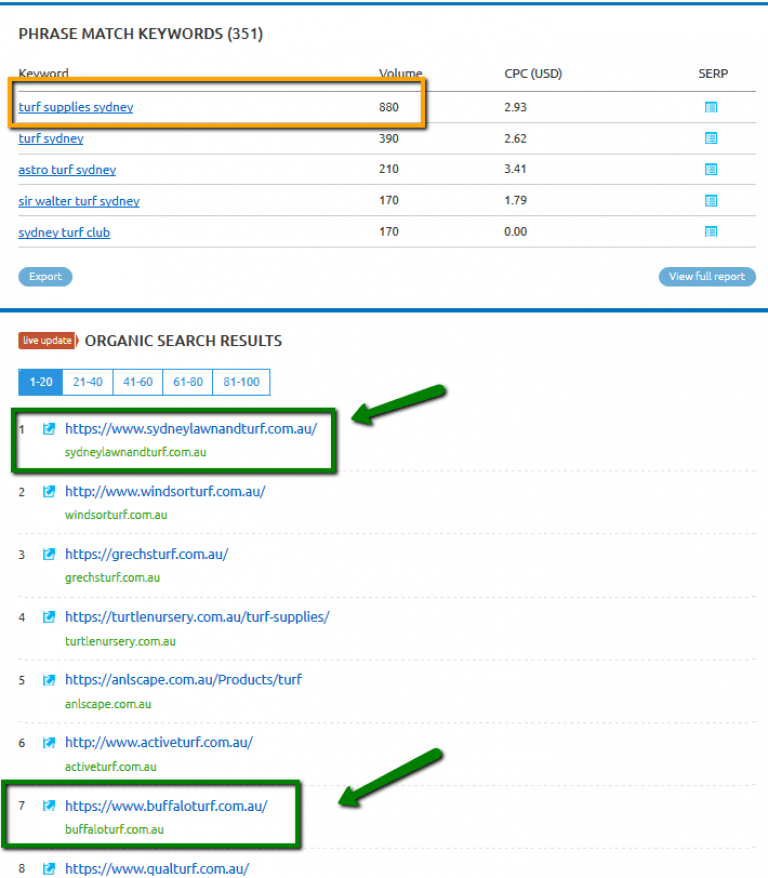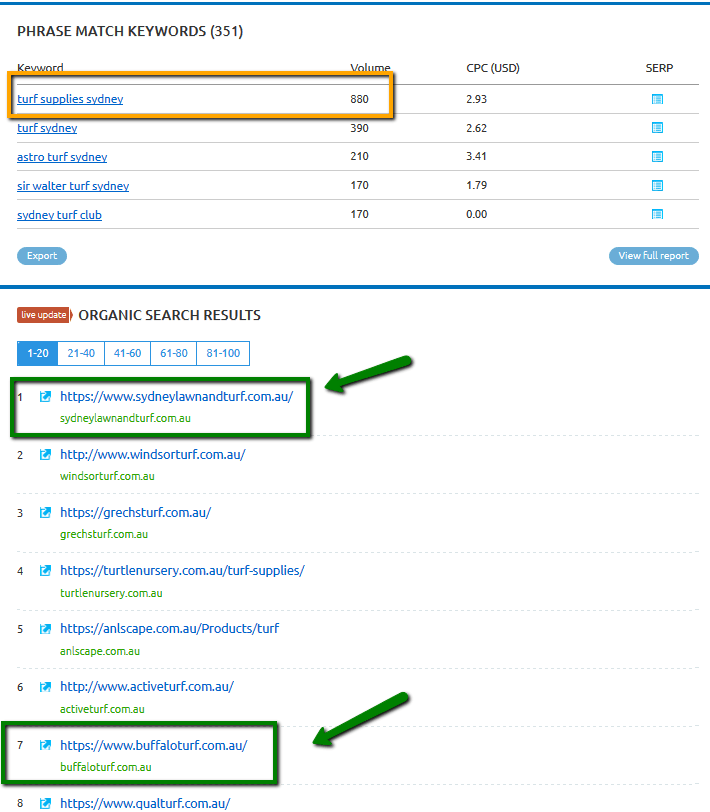 Eureka Awnings is a Sydney based manufacturing business that specialises in outdoor awnings for both residential and commercial clients. We have been working with this client for over 2 years.
The client wanted a functional, visually-appealing and optimised website that would showcase their products and attract more customers to contact their business. FX Web Studio built a brand-new website and are currently managing their SEO campaign to boost their visibility on Google and other search engines.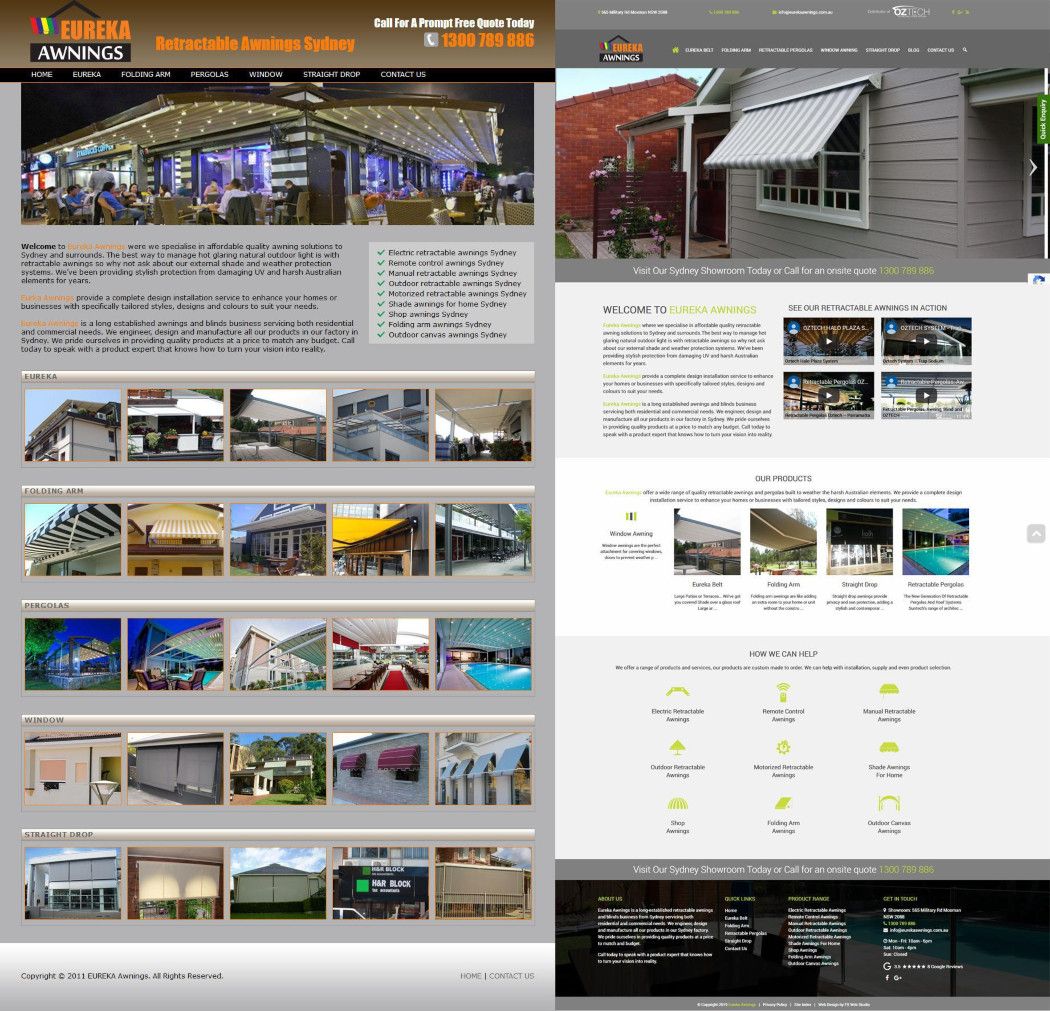 Eureka Awnings' former website next to its current visually-appealing and SEO-optimised redesign.
With the help of effective on-page and off-page strategies, the client is on page one of Google SERPS and still continuing to grow. We've also helped Eureka with a Google Adwords campaign. They ranked for high-volume keyword phrases such as the ones below:
awnings Sydney
retractable awnings Sydney
outdoor awning Sydney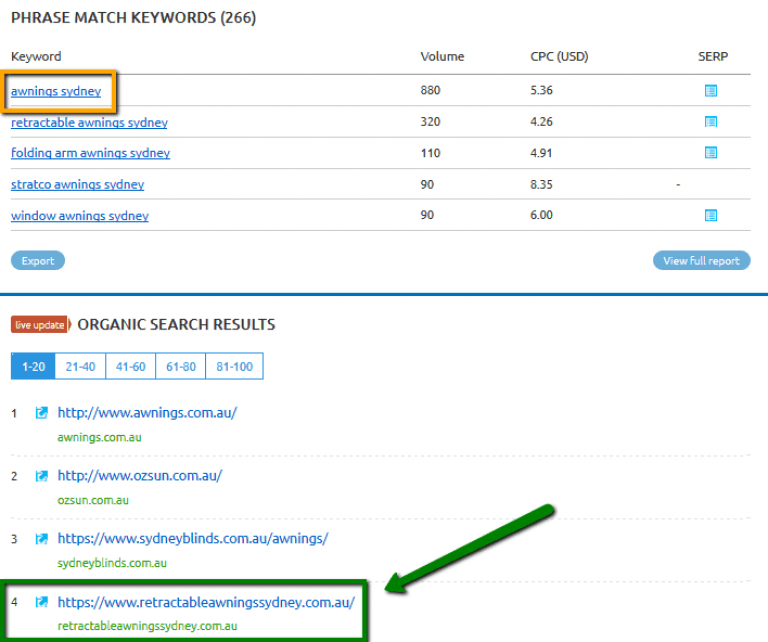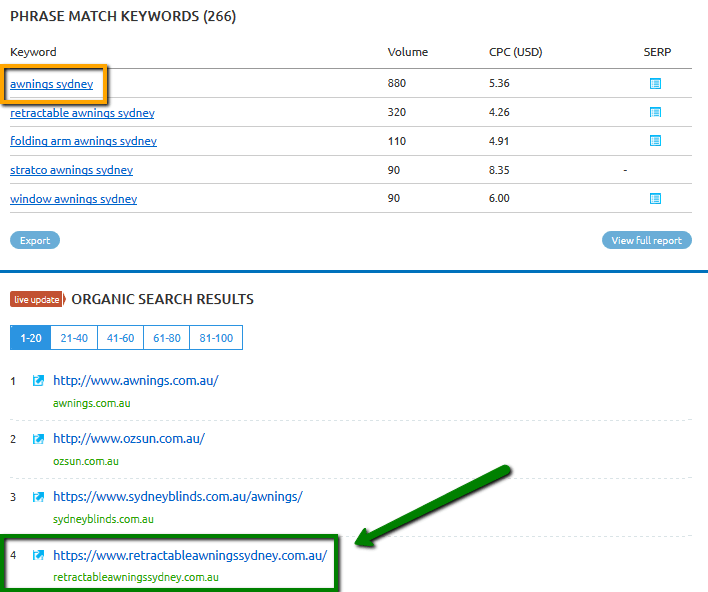 Search Engine Optimisation Packages
With a variety of SEO plans to choose from, FX Web Studio will have you ranking in no time! Looking for something a little more custom? We can tailor an affordable SEO Package suited to your company's needs.
Starter
The Starter SEO Plan is perfect for those who want to get their foot in the door of SEO.
Research & Analysis
On-Page SEO
Mobile Optimisation
Performance Optimisation
Local Optimisation
Content, Meta & Link Optimisation
1 Blog
Monthly Reports
No Contracts
Enquire Now
Domination
The Domination SEO Plan is an express plan suited for ambitions brands wanting to expedite their SEO activities.
On-Page SEO
Mobile Optimisation
Performance Optimisation
Local Optimisation
Content, Meta & Link Optimisation
2 Blogs
Monthly Reports
No Contracts
Enquire Now
Ultimate
The Ultimate SEO Plan is designed with a heavy focus on rich-media content for brands wanting to dominate their industry.
Research & Analysis
On-Page SEO
Mobile Optimisation
Performance Optimisation
Local Optimisation
Content, Meta & Link Optimisation
Rich Media Blogs
Monthly Reports
No Contracts
Enquire Now
Search Engine Optimisation Packages
Thank you for your interest in our Search Engine Optimisation package.
Please submit your details below and we will email you a copy of our Search Engine Optimisation information pack.
We provide SEO throughout Western Sydney
Areas we service in the Western Sydney region include: