OPTIMISING FOR MOBILE DEVICES
Modern and Updated Mobile Optimisation
Throughout the years, technological development has required SEO to expand and adapt to search engines on multiple screens — introducing mobile SEO. No longer just on desktops and laptops, SEO is now required to cater to the many mobile platforms that are only increasingly evolving.
When visitors land on a website that isn't optimised for mobile, they'll quickly jump off. This is because not only is it hard for them to use a non-mobile optimised website on a smaller screen, but it can lead them to assume a company is dated and no longer in operation.
With most customers now relying on mobiles to visit websites and contact services, it is incredibly vital your business is accessible by adapting to the trends.
Get Started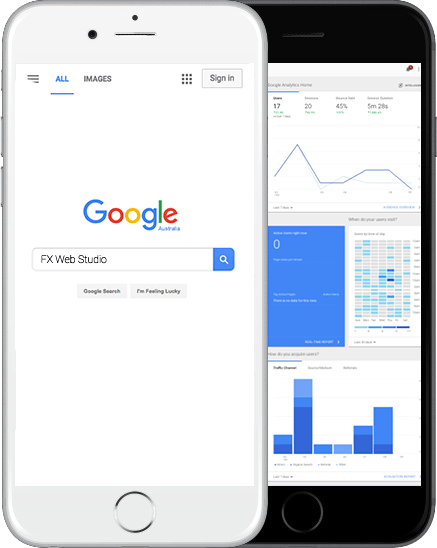 Your local SEO company in Sydney
Full-Service SEO
Are you looking for full-service SEO in Sydney that includes mobile optimisation? Let FX Web Studio help you! Specialising in SEO, we can deliver you with a quality website that is optimised to not only climb rankings but to provide your users with a more efficient experience.
Using our knowledge and experience, we can help you achieve an improved website across both desktop and mobile. With our extensive packages, you will receive the full SEO experience on all interfaces.
To get your website responsive and performing on both mobile and desktop screens, contact our team on 1300 090 401.
Free SEO Health Check
Receive a free comprehensive SEO site audit