Jan 21 2020
I have bad news for you. If you are a business owner and your website appears anywhere BUT page #1 of Google, it's useless. This doesn't mean you have an ugly or outdated website, but it does mean that NO ONE would find it.
A site's position on Google will directly affect the enquiries, sales and brand awareness.
I could end this article by asking "When was the last time you went to page 2 of Google?" But you need to know the stats and figures as to why being on page #1 matters and the importance of being at the top.
Page 1 or nothing
I am not exaggerating when I say that the vast majority of clicks and engagement occurs on page 1. There's only about 0.78% of engagement for links appearing on page 2. That means if you're on the second page, less than 1% of people would find your website.
Obviously, it is much better to compete on a court that has about 100% of the market share, as opposed to 1%. That means if your website is on page 2, for every 100 searches, only one person will see your website result. Even then, there is no guarantee they click on it.
You have a greater chance of generating leads and sales from a hundred people than from just one.
Google receives roughly 5.6 billion searches per day, and you want to appear for as many of them as applicable. Another way of looking at it is, EVERYONE will visit page one, while very few will move on to page 2. Reach EVERYONE, not just a few!
Hierarchy on page 1
If your website is on page 1, that's awesome. You've made it! But even on page 1 you'd want to be closer to the top!  
According to a study that analysed the Click Through Rates (CTR) of 5 million results, there is a huge difference in being at the top rather than the bottom of page 1. Position 1 is ten times more likely to be clicked than position 10.
In fact, the 1 result received 31.7% of all the clicks. This means nearly everyone clicks on the first result, whilst less and less click on lower results.
Many people want to be at position 1, but just because you're at the top doesn't mean people will buy from you. Many people will compare between websites. So being in the top three positions provides a competitive advantage.
People will view the first option, then move on to compare positions two and three. This means the most recent website in mind is typically the second and third sites. This creates an advantage.
If you're really concerned about your rankings, which you should be, don't get hung up about being at the first position. If it happens, then that's great! But if you end up somewhere in the top 3 positions, you'll see an increase in traffic regardless, especially if the number 1 position doesn't provide the searchers with what they want.
Being in position 7-10 on Google still leaps and bounds a head of any result on page 2. But compared to position 4 and upwards, it is weak.
Below is a visualisation of the impact of page 1 positions.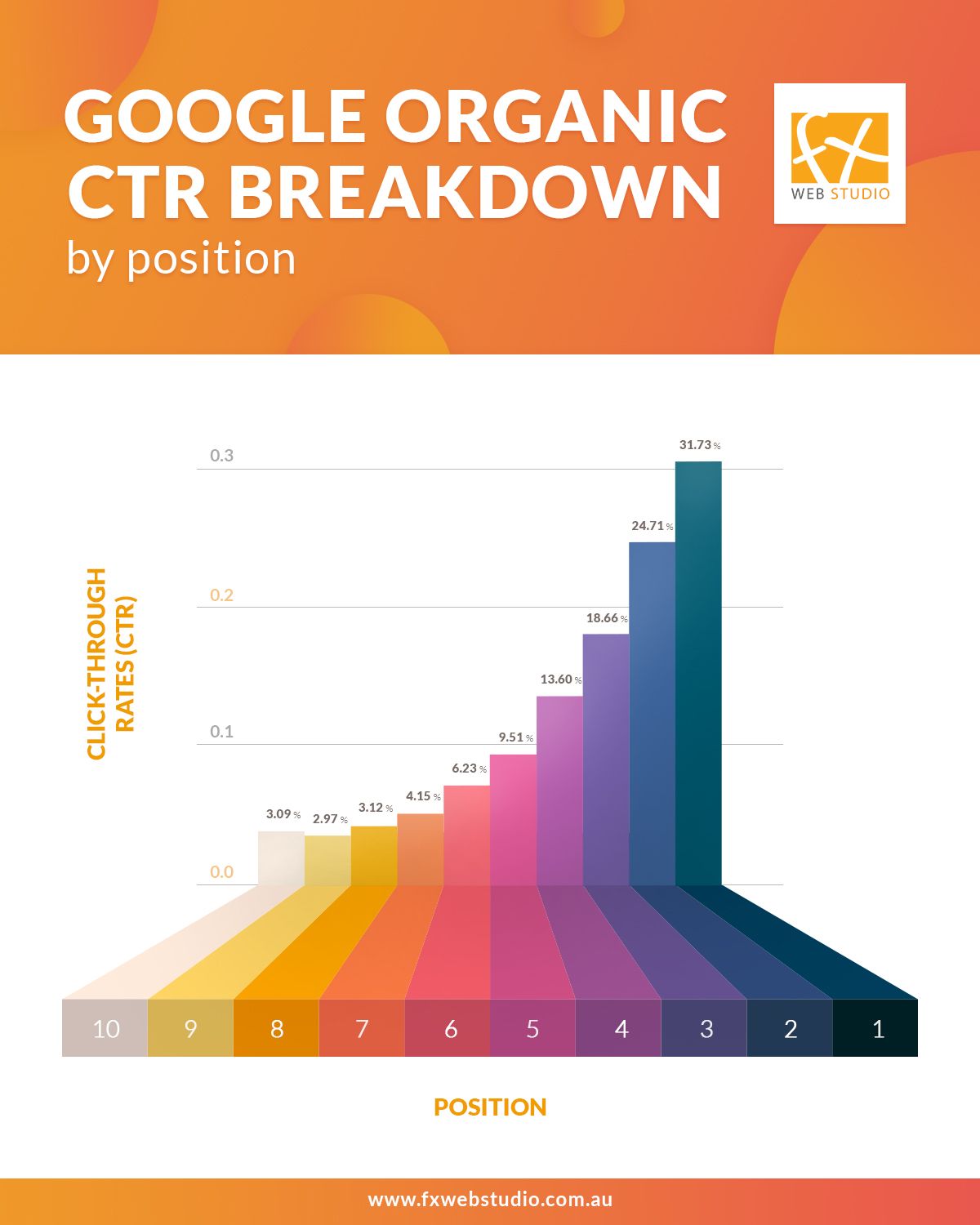 You also have to think about the physical limitations of search results.
A computer screen or mobile phone can only physically display a certain amount of information before scrolling is required. So even if your results appear on page 1, but if it's past position 5, it is likely the user will have to scroll.
This is perhaps why higher positions on Google receive a significantly larger amount of traffic than lower results.
Page #1 – Now what?
Congratulations! You are on the first page of Google. The question is "Are users clicking on your search result?"
You are now being seen, but there is a chance that searchers are overlooking your website. There is a major step you can take in order to really catch people's attention and have them engage with your website.
Optimising your title tag and description is essential to being clicked on. This refers to the heading and text that comes up for your search result.

The same study revealed that having the keyword in the title and phrasing them as questions increased clicks.
Basically, your title and description should read as an engaging advertisement where people are either convinced it will provide what they need or entices them to find out more.
Catchy search engine results page (SERPs) will attract attention and increase the likelihood of being clicked. Being seen is great but being convincing even before they click on your site is invaluable.
Often, people will form an opinion before even clicking on your site, and having a good, relevant SERP can assist in creating a good first impression.
An effective SEO strategy will incorporate many factors into their plan in order to maximise your results efforts.
The main takeaway from the data, is that being on page 1 is vital, but even more so, being in the top 3 positions.
If your site is not on page 1 of Google, then it may as well be thrown into a casket, nailed shut and buried 6 feet under. But a well-managed, holistic SEO strategy cannot only revive your business but breathe a life into your online presence that will make you a fierce competitor.