Mar 30 2021
On the 4th of January 2019, the world saw something no one could have ever imagined. A lowly stock image of an egg broke the internet.
The image was uploaded by the account '@world_record_egg' posted with the caption: "Let's set a world record together and get the most liked post on Instagram. Beating the current world record held by Kylie Jenner (18 million)! We got this."
How did this simple egg crack the secret to going viral on the web? Keep reading to learn more about how viral marketing can change your business.
A brief history on the "egg-citing" journey of the Instagram egg
Ten days after the image was uploaded, the eggs' like count tallied up to more than 30 million, swiftly surpassing TV Star Kylie Jenner's previously held record.
A month after the egg made its appearance on Instagram, the account's creator, 29-year-old Chris Godfrey, an advertising professional based in London, revealed the true motives behind this bizarre viral marketing campaign.
The idea of an insignificant egg to advocate for a substantial issue such as mental health could be interpreted as a reaction to celebrity dominance of social media. It works toward tackling multiple issues identified within popular western culture using the power of viral humour.
Godfrey chose a simple egg to pursue the record for Instagram likes because "An egg is an egg. An egg has no gender, race, or religion," Godfrey told the Times. "It's universal."
How does a meer stock image gain more likes and engagement than anything anyone has ever posted until this point? The moral of the story is that there is so much more to marketing, viral marketing in particular, than just the content itself.
People react to content that speaks a message louder than the content itself. People want to be part of something bigger than themselves.
Since breaking the "most liked photo" record, the egg's Instagram account has been posting photos showing the egg with cracks that got bigger with each post.
The build-up to a big reveal of the campaign's true purpose ceased when a video was released during the 2019 Super Bowl that showed the egg breaking apart under the pressure of its viral fame — a message about mental health.
"The pressure of social media is getting to me," says the egg in the video. "If you're struggling, too, talk to someone."
To summarise the residual impact this short but powerful campaign had on the internet, "The egg's sudden fame made it a golden money-making opportunity. The account behind the egg has more than 10 million followers, shooting it into the influencer spotlight. The account has been selling egg-themed merchandise and gained traction with the hashtag #EggGang, which has now been used almost 150,000 times on Instagram." reports Business Insider. 
How did the egg crack "viral marketing"?
When we scroll through our social media and see something being shared and reshared, parodied and mocked, these are usually the first signifying identifiers of specific content going viral. If the content is appearing on enough people's feeds, and they are engaging with it, people will start talking about it not only on social media but in their day-to-day conversations as well.
When it comes to mainstream media, we usually see the same news story told in various forms, including memes, reactions and parodies. The question rises in situations like these; "What qualifies a piece of content to break the "viral threshold"? The egg got people involved, talking and sharing. The egg's viral fame was built on some sturdy pillars of viral marketing.
Normally creators and businesses hopping on the latest trends see astonishing sources of engagement and relatability to their growing audience while exploiting viral marketing opportunities.
Posting a video in 2016 of your team doing the Mannequin Challenge or a photo of you or a client "planking" on or near your product in light of the 2011 Planking Trend, would have made your audience connect your business on a more relatable level.
One of the first most successful viral challenges on the internet was birthed in 2014.
The 2014 ALS Ice Bucket Challenge enabled The ALS Association to increase its annual funding for research worldwide by 187% this time, ALS researchers made scientific advances, care for people living with ALS expanded and investment in disease research from the federal government grew.
The ALS Ice bucket challenge tied most key pillars of viral marketing together. In this situation, the content itself didn't drive the challenge's virality; the cause linked to it and the nature of the challenge did. The challenge involved tagging others and using hashtags to promote the cause, which encouraged users to engage with the content and share it with their online circles.
The ALS ice bucket challenge also was introduced to the online community initially through celebrities, whose influences help the challenge make its way into the greater general audience.
From the ALS Ice Bucket Challenge, we can learn so much about the key components of viral marketing, specifically using trends for our own businesses.
The Egg, built its' fame on very similar grounds, starting with connection, working its way up the pyramid and finally breaching the "viral threshold".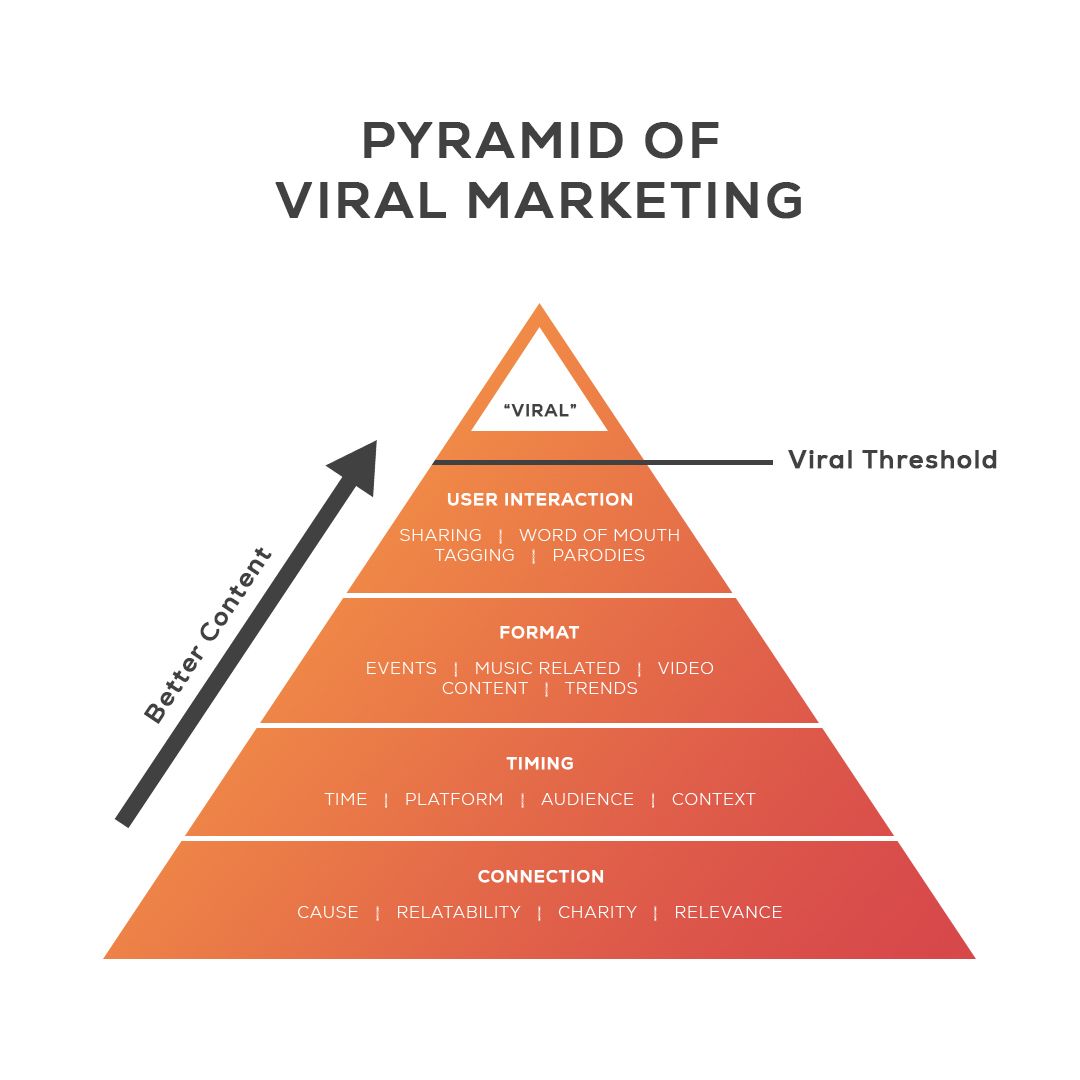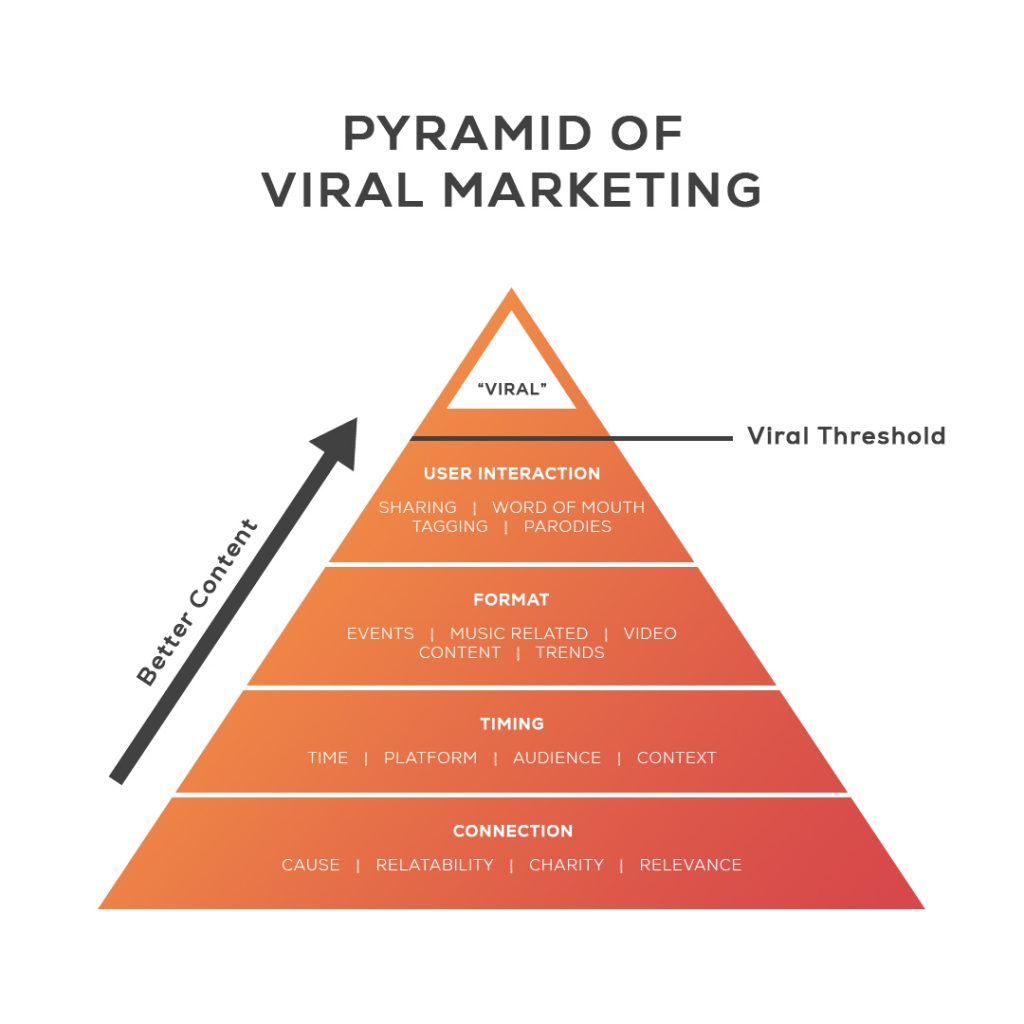 While the landscape of the viral market is always changing, one thing remains the same; people want to connect with your content. This is why connection is the biggest slab on the pyramid of viral marketing.
People like finding content they can relate to their personal passions. Every specific niche has particular things that unify them as an audience which makes it easier for you to launch into an audience you understand.
Be creative in the ways you want to connect with your audience and think about your audience's audience when preparing your content too. Whatever they share from your business will be shared to an audience you may be unfamiliar with. Keeping in mind that your content should be easy to understand and connect with people of all niches.
When it comes to finding the right moment your content, make sure you check the following boxes when planning to release content you hope will go viral:
Time
Platform
Audience
Content
Normally, good content is everything listed BELOW the red line, and what pushes your content over the viral threshold lies in the hands of your audience and how they engage with your content. So the question begs, what are you going to do about it?
How can viral marketing benefit my business?
Viral marketing campaigns are considered a very difficult skill to master as the results of your campaign lie predominantly in the hands of timing and user interaction. You may not be able to control these two things, but you can create content that utilises them to its advantage.
Viral marketing is considered very low-cost and thereby an affordable means of advertising and building brand awareness. The benefits of "perpetual advertising" is that the campaign fuels itself. A truly viral campaign will blow up in a short period of time and almost leave you behind as it ventures on to the furthest ends of the web. It needs very little fuel for its creator to keep going.
If you find yourself constantly injecting funds and spending lots of time with little results in your potential viral marketing campaign, you probably need to rethink your viral marketing strategy. Viral marketing is about creating a campaign that speaks to an audience you want to talk to in a fun, engaging and meaningful way. Not just copying what's trending online.
Viral marketing is also a great way to build your brand and increase your reach online. It helps you grow your audience and to advertise non-invasively.
The egg broke records, yolked on people's hearts and cracked the viral marketing strategy.
If an egg can do it, you can too. Contact FX Web studio today on 1300 090 401 to learn more about how we can build your brand online and grow your business. With affordable search engine optimisation and expert digital marketing in Norwest our specialists will provide an unbeatable service.
Download full infographic