Mar 09 2020
If you are somewhat familiar with websites or are planning to start your own, you may have heard the term 'domain name' thrown around. When it comes to domain names, there is a lot to understand.
As a well-established digital marketing agency located in Castle Hill, we have a lot of experience with domain names and often receive customer enquiries regarding the topic. From the consequences of others registering your domain name to the importance of one, we have heard it all.
Interested in fully understanding a domain name in all its glory? Keep reading below as we explain your common questions.
What is a domain name?
A domain name is the name of your website. A great way to think of it is like a street address. It is how the internet can access a website, using it as an address to connect and identify your website.
It was created to make it simpler for people to remember a website. Therefore, it is important for businesses to have a short and sharp domain name that represents their business. This way, it is easy to remember. If you jump on it quickly, you will be able to snag a domain name that hasn't been taken.
Still not sure what it is or where it can be found? Look up to the URL bar.
There – you've found it! On our website, our domain name is 'fxwebstudio.com.au'.

Not sure how you can create a good domain name? Think of something that is easy to remember and isn't too complicated. Check out the graphic below for valuable tips on creating a quality domain name.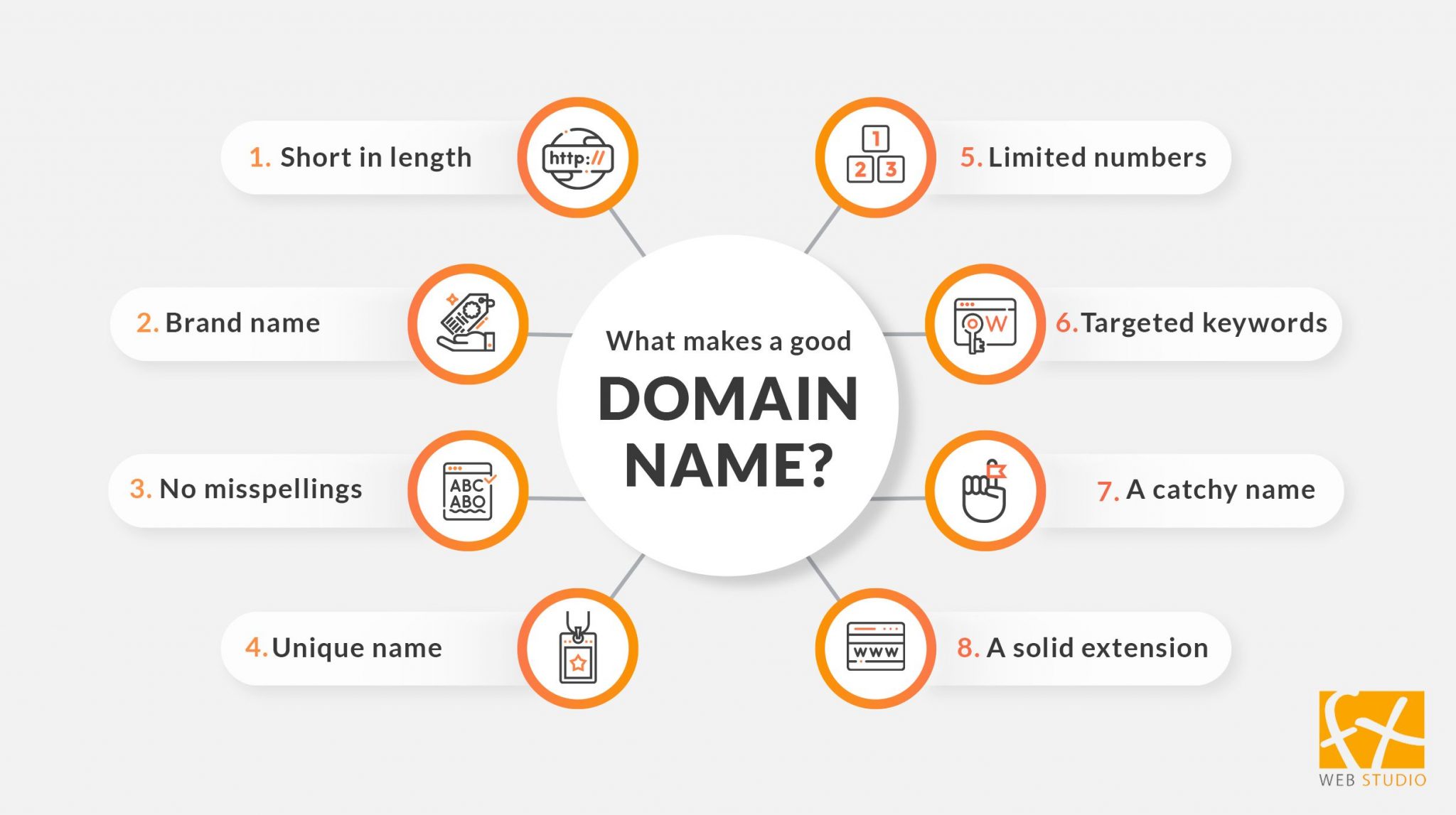 Why do you need a domain name?
But why do I need a domain name? Of course, it is essential for your website! Not only is it a unique identifier that will help your customers and users find your page, but it is also vital in running your site. Without a domain name, your website cannot be found.
There is no domain name that is the same as another. Each one is unique, allowing you to have a distinctive address people can use to visit and find your website.
The domain name is entered in the URL bar, making it possible to directly send you to a website in a matter of a second.
In fact, you don't even need to get just one. You can have several domain names!
By having domain extensions that are like your main domain name or a common misspelling of your domain name, you are giving your business ample amount of opportunities to catch customers, especially those who might be a letter off in typing the name or know it by a shortened version. It is also great to use this strategy for landing pages and email marketing, so you can really focus on a particular product/service.
A good example is our business. Whilst we have the domain 'fxwebstudio.com.au', we have also registered the following:
fxwebstudio.net.au
fxmarketing.com.au
fxmarketing.net.au
fxseo.com.au
How can you get a domain name and maintain it?
Thinking of starting a website? You'll want to get a domain name that holds an identical, if not close resemblance, to your business. This way, people can just type in your domain name/business and find you quickly.
This will also allow you to use it with your emails. Not only will this help with your branding, but it will also help your business become more credible and appear more uniform and trustworthy.
To register for a domain name, you simply have to register on a reputable domain website. This can be tricky as you want to go with a service provider that is trustworthy and will give you a good price. At FX Web Studio, we have a reliable website we often use for domain names.
To make the process easy for you, we can organise your domain names and even maintain it for you!
It is extremely important to maintain your domain name by ensuring it doesn't expire. Otherwise, you may lose it. As domain names work on a first come, first served basis, as soon as you lose your domain registry, another can snatch it up once it becomes available – hence, the importance of renewal.
Amongst our many services, we can ensure your domain name is kept by annually renewing it for you. This way, we manage the hard bit and remind you when the annual fee is due. We also offer web hosting to ensure your website is up and running!
Can domain names help with SEO?
Yes, domain names can help with your SEO. Due to domain names playing a big part in your online identity, the name itself AND the extension needs to both be reputable and in line with your brand. By picking the right name and extension, you are increasing the chances of the right traffic coming to your website, and in turn, your chances of obtaining leads.
Your domain name should represent your business and the industry you are in well. It should be near identical to your existing business trademark or as close as possible so it is easy for consumers to link the two together and to find you online. By doing this, you are not only building your brand identity, but you are making it easier for people to find you.
As for your extension, you should consider your target audience and market. You don't want to cut yourself short by using a niche extension, limiting your audience visibility. If you operate in Australia for example and do not offer your services outside of the country, a '.com.au' extension would be recommended. However, if you provide products or services to a global audience, you should avoid niche extensions and go for the open '.com' so it is more welcoming to consumers worldwide.
Should I register misspelt domains?
Yes, you should certainly register any commonly misspelt versions of your domain name. More often than not, people aren't going to know how to spell your business name correctly, especially if it is a little more complicated or a play on words.
By registering misspelt versions of your domain name, you are allowing commonly misspelt versions to funnel back and lead to the correct website. This will also reduce the risk of losing leads to a simple spelling mistake.
Common misspellings may be a simple letter left off the end of your company name or a small mistake or letter change that can be often confused. It can also be worthwhile including the misspelling of a domain name that may include a word that can be spelt differently in another English writing.
For example, the word 'fertiliser' uses a 'z' in American English, so if your domain name includes this word, registering a domain name with this version of the word can help direct any possible errors back to your website.
Do I need a 'dot AU' domain name?
No, you don't necessarily need a '.com.au' extension for your domain if you are in Australia. Either '.com.au' or the standard '.com' extension will do. However, it is critical to note that if you are an Australian business, it can be beneficial for your website if you do use 'com.au', especially for SEO purposes.
If your company is Australian, with most or if not all, of your business coming from within Australia, you would benefit from having '.com.au' as your domain name extension. By having this specific extension, you are signalling you're an Aussie website, allowing Google and other search engines to identify you as an Australian source.
With this extension, search engines will drive local traffic to your website, giving you greater visibility to Australian consumers. Not only that, but you will also build trust with your audience as they can identify you're a local website, making you seem more reliable.
Can I register competitor domain names?
While it can be done if the domain name is available, it is highly recommended YOU DO NOT use a competitor's domain name. Even if their right to the domain name has expired or isn't in use, they will generally have a trademark on the name. This also includes slight differentiations of the name.
While a trademark doesn't necessarily entitle a company to the matching domain name, it can certainly lead to legal issues if they choose to register a complaint. If you do use the name of another existing business for your domain name, you will be at risk of legal action.
Furthermore, the domain name regulatory body can revoke your licence of the domain name if they do find a trademark infringement.
What if a competitor registers my domain name?
If you do find a competitor has registered your business as their domain name, you can fight the issue. As you are the lawful business owner, the competitor only has a licence for the domain name, whereas you have the trademark to the business name.
Even though this trademark doesn't entitle you to the matching domain name of your business, you often have a higher hand in this situation.
Before you push the matter with the au Domain Administration Ltd (auDA) or other legal teams, it is advised you send a letter to the infringer requesting they remove the domain name and outlining your claim as the trademark owner. Sometimes, it can be a coincidence rather than malicious, making this method an easy and quick solution.
However, if the act is malicious and they do refuse to revoke the domain name licence, you can push the matter further with the auDA. They offer a Dispute Resolution Procedure which assists brand owners to retrieve their marks when registered by unauthorised parties. You can also follow this issue up with our legal services.
---
Looking for a domain name? Or maybe you simply want web hosting and SEO services in Sydney? Give us a call! Specialising in SEO and digital marketing, we understand the importance of websites.
To find out more about how we can help you, give us a call on 1300 090 401.