Aug 07 2019
There are many reasons why using Facebook can benefit your business. From creating a page and establishing your online presence to creating ads, the online platform is a fantastic tool for your company.
What many don't know is the full potential Facebook can have for your business beyond the good ol' blue 'Boost Post' button. Our digital marketing specialists from Castle Hill know that,  when used efficiently, Facebook can generate leads and allow you to gather more data than ever before!
Want to find out more? Keep reading below.

What else is there?
When your business has a Facebook page, you gain access to the holy Facebook Ads Manager. This is more than just a tool; Facebook Ads Manager is the key to an effective digital marketing strategy that will help you obtain the leads and customers your business needs.
With several ad types at hand, there are many ways you can get your business to interact with potential clients through Facebook. From pixel ads to the standard technique of broadening your target audience, there is more you can do for your business that just boosting a post.
The target audience feature in Facebook Ads is a wonderful tool that the social media platform offers to business users. There are so many options you can choose from that will help narrow down and tailor your target audience. From choosing a Lookalike Audience based on existing customers to promoting new products to your loyal customers, there are many ways you can use this tool to your advantage.
Below, we discuss some of the other effective ad tools that will help your business grow!
Pixels
To get the most out of your campaign, Facebook Pixel is the perfect tool to help you gather the customers you need. A code you put into your website, Facebook Pixel is a remarketing tool that will track users who visit your website or interact with your ads. This will not only gather data and present your ads to the right audience, but it also serves as a reminder by suggesting your ads to people who have already shown interest in your business.
Dynamic Ads
An effective type of ad that will help you score the conversions you desire is a Dynamic Ad.
A Dynamic Ad uses Facebook Pixel and will suggest your brand or products to people who have already visited your website. This ad is very personalised and will allow the user to view a multi-product or carousel ad which promotes your online catalogue that they have already shown interest in.
Lead Ads
Facebook Lead Ads are another highly recommended ad type if you want to build up your database and generate new customers.
From interest forms to sign up sheets, Lead Ads allow you to create interactive forms that individuals can fill in by simply clicking on your ad. Not only will this help you collect data from potential leads but this can also give you an opening for email marketing.
Messenger
A tool that also passes as an interactive ad type, Facebook Messenger can be a handy tool in communicating with your target audience. By setting up auto-messaging, your messenger acts as a 24/7 customer assistant, helping to answer their questions in and outside of business hours whenever someone views your page.
With Messenger, you can also send mass messages to people who have already messaged your business page, sending out announcements for competitions and products to existing and potential leads.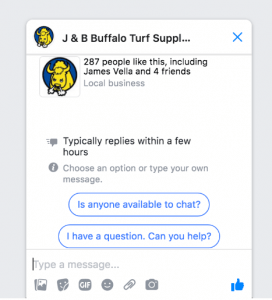 Booking Appointments
A new tool that has been introduced to Facebook business users is Appointments. It is a convenient and free tool that can be added to the business page. This tool will sync your Google Calendar to track your availabilities and manage your appointment requests all through Facebook. Not only it is a fantastic organisation process, but it is also highly adjustable and easily tailored to represent the services your business offers.
---
It is clear Facebook can do more for your business than just simply boosting your post. If you haven't got your business on Facebook yet, you will want to get on it now more than ever!
For more information on how social media can benefit your digital marketing, talk to the experts at FX Web Studio by giving us a call on 1300 090 401.