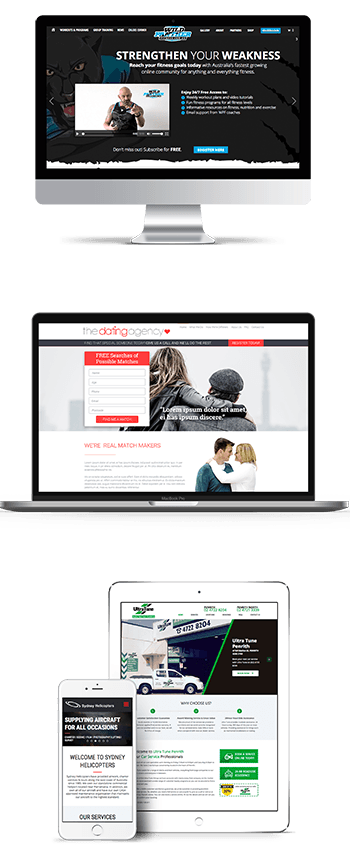 Let us take of your domain name.
We have partnered with one of Australia's most trusted domain registrar to offer you complete domain management. We can register and renew your domain name to ensure your valuable address belongs to you. We will even take care of your DNS and SPF records for you.

Peace of mind with our secure and fast web server.
When hosting a website, we know that speed, reliability and security is of prime importance. We pride ourselves on offering a fast and reliable hosting service with 99.9% uptime. We also offer one of the highest grades of security in Australia - making it extremely difficult for hackers to penetrate. For peace of mind, host your website on our secure and fast web servers.

Email solutions to suit your business needs.
We know that your email service is one of the most vital tools you use to keep in contact with your customers and suppliers. That's why we offer a range of email solutions including our own hosted mail service, Gmail and Outlook 365. Our powerful and fully-featured email solutions makes it easy to manage your emails, contacts and calendar.

We're your local hosting company.
When you need technical support, we are here for you. We offer phone, email, remote and live support. When you call, you will talk directly to one of our support team members - we won't keep you on hold! To make things easier, we will connect to your computer and sort out your email issues ourselves. If nee support in person, you are welcome to make an appointment with our support team in our Castle Hill office.
Schedule an appointment with our website specialist!
If you want a high-quality, tailor-made website that's going to let you rise above your competition, you can rely on FX Web Studio to bring you effective and affordable customised website solutions. If you'd like to learn more, book an appointment with our website specialist today!
Why Choose Us?
We have an awesome team!
We are passionate about all things web – we love what we do! Our team is experienced, creative and professional. We think outside of the square.
We make it easy for you.
We take a sensible and practical approach to managing your online presence. We don't muck around and we keep things simple.
We take care of everything!
This means you deal with one company for your website, internet marketing, domain names and web hosting.
We're a local company.
Come and visit us at our Castle Hill office for a friendly, obligation-free chat about your business. We're here whenever you need us.
Check out our latest custom website projects