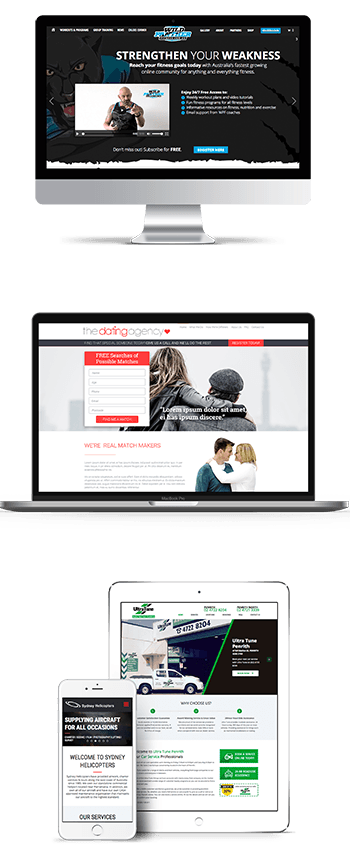 We design websites to impress.
With so much competition, your website must stand out from the rest. We deliver websites that are functional, easy-to-use and visually appealing. Let us design a website to match your brand image and engage new customers.


We develop websites to suit.
We don't use templates. We don't have a one-size package that fits all. We will tailor our website solutions to suit your business, target market and budget. We have successfully designed websites for many different businesses including shops, trades, professionals, suppliers and more.


We design websites that sell!
Your website has to be more than 'pretty' – it must sell! We design websites to attract your target audience, build confidence in your brand and lead customers to follow strong calls-to-action. Let us build a website that convinces customers to buy your products or services.


We design websites that rank!
Our websites are professional, reliable and functional across all popular internet browsers and mobile devices. Our websites are put through many rigorous tests to ensure that it is easy to use, secure and works for all users on all devices.


We are your local web design company.
Located just off the Victoria Avenue industrial area in Castle Hill, we are your local web design company. We've worked with many businesses in Castle Hill, Baulkham Hills and surrounding areas. We invite you to visit us for a friendly chat about how we can help your business grow.
BOOK A SESSION WITH OUR DIGITAL MARKETING SPECIALIST
We're no longer offering website development as a standalone service. However, we can refer to the right website developer for your business and budget.
Not sure where to start? There is nothing worse than heading down the wrong path and developing a website that doesn't meet your business expectations. This is where our digital marketing specialist can help. Book a discovery session with her, and she will help you develop a strategy to produce a website that effectively sells your brand and services.
Analyse business needs
Determine website structure and content needs
Determine functional specifications and requirements
Find the right web development team
Identify target audience and market position
Analyse competition and determining market opportunities
Explore digital marketing strategies
By the end of the session, you will have the confidence you need to move forward. We will provide you with a clear action plan that enables you to develop a website that meets your objectives and helps your business to grow.
We charge $300 inc. GST for this invaluable discovery session. Book today!
Book Now
Why Choose Us?
We have an awesome team!
We are passionate about all things web – we love what we do! Our team is experienced, creative and professional. We think outside of the square.
We make it easy for you.
We take a sensible and practical approach to managing your online presence. We don't muck around and we keep things simple.
We take care of everything!
This means you deal with one company for your website, internet marketing, domain names and web hosting.
We're a local company.
Come and visit us at our Castle Hill office for a friendly, obligation-free chat about your business. We're here whenever you need us.
Check out our latest websites